Weekly Words of Wisdom Q&A: Guidance, Direction, and Truth
For the conscious, heart-centered business owner, entrepreneur, and professional who is most likely working way too hard to BE the best that they can BE.
Master certified coach, Judy K. Katz, your manifesting and attraction authority and mentor, answers your most pressing questions for creating a life of meaning and purpose while enjoying wealth in all areas of your business and personal life.
To submit your question, please go to www.judykkatz.com/sage-advice
---
This week's question comes from someone who wishes to remain anonymous.
Question:
I am a mom who is having difficulty releasing myself from being responsible for my adult children. I feel often frustrated about their decisions and choices even though logically I know its their life. I try to protect and control so I don't have to feel bad for their decisions. I often do things for them that they are capable of doing. My ideal outcome is to be responsible for myself and set them free to be responsible for themselves.
Answer:
Bravo for you declaring your desire to be responsible for yourself and to set your adult children free! I know this is much easier said than done. This question not only begs an answer for moms who feel overly responsible for their adult children; this problem shows up for protective moms in their business lives as well. This one is very costly and shows up in the area of money. Likely you have a desire to up level that area of your life.
The way we do one thing is the way we do all things. I call your attention to this truth: to the extent that you can feel your own pain, is the degree to which you can be with others in their pain and upset, as well.
I don't believe it is an accident that your desire to be free from this over-protecting pattern is surfacing in your life right now. You are being called to accept an aspect within yourself that was not protected from pain when you were a little kid. You likely had a need to be loved and supported, and it wasn't met.

Often, our unmet needs as kids turn into protective vows in which we promise ourselves that we will always meet our unmet need for others; that we will keep others from feeling the pain and anguish that we felt as a child. Always is the problem. It prevents us from being appropriate. Guilt is produced when you go against this vow.
I urge you to decide that you can and must break your childhood vow that you will keep others out of their pain, particularly your children. Change the way you are seeing them. See them as capable, resilient human beings that have Infinite Intelligence within them. That is the Truth!
By changing the way you "see" others, you're sending a message to your subconscious mind that you are changing the way you see yourself, someone who is lovable, an adult, and can handle what life brings.
Your view of others is really a projection of how you see yourself from a very deep level. This is true for all of us. It is part of being human! We MUST wake up to this fact if we want our relationships to improve and to be strong.
You are giving yourself, your children, and anyone else you might be over-protecting, a huge gift. The gift comes each time you decide to release the victim energy and welcome your inner power. The victim level of consciousness is one that we all must release as we mature on our spiritual and emotional path.
Just remember, when it comes to doing things from logic and will power versus what you subconsciously believe, what you subconsciously believe will ALWAYS WIN OVER, hands down, every time!
This is a quest well worth making. I believe, it is your soul's desire to do so. It is a MUST if you want to live the life you were born to live and to be the grandest, prosperous YOU that is YOU!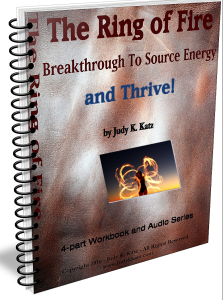 For additional help in up leveling your experience by releasing the victim and saboteur energy patterns and accessing your True power and your authentic Self, please go to the Courses Library and learn more about the "Ring of Fire" online course.
Thank you!
My best to you for all of the peace, abundance, and joy that you deserve!
In love and abundance,


"Dream it, own it, and make it REAL"
P.S. This is a weekly no-cost program that is open to everyone! Each week, I'll personally respond to a question that I believe in my heart will help the most people. (You may choose to remain anonymous if you wish.)
It is my heartfelt intention that, in answering your questions, I will provide you with perspectives and Universal Truths that, when adopted and applied in your life, will set you free to attract what you want from a place of abundance and inspiration, rather than urgency and desperation.
Simply submit YOUR pressing question to Weekly Words of Wisdom Q&A: Guidance, Direction, and Truth
P.P.S. Would you like to help me spread the word about this program? Is there someone you care about who is stuck, challenged from set backs, or who is struggling to make significant improvements in their business or personal life? If so, I would very much like to help them, too. Regardless of their predicament, their question will help many others who might be struggling with a similar challenge. This is true for you, too!