Make It REAL: The 4 Crucial Steps That Will Turn Your Dreams and Desires Into Believable Realities Now!
Would you like to have a sure-fire way to become magnetic to your heart's desires and to manifest them effortlessly? This is what happens when you connect with your inner realm of Divine power. The realm of unconditional love and infinite possibilities is the realm of the Divine within YOU. This is your Source of everything! It makes you 'magnetic' to what you want.
If you've been trying hard to make your desires happen and they continue to 'elude' you, STOP chasing after what you want by attempting to 'make it happen'. If this is not working for you. . .continue because, "There is a Better Way!"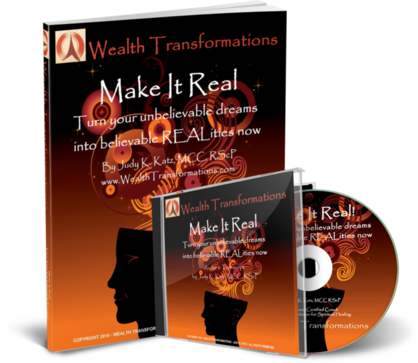 This course offers a very simple 4-step formula that allows you to work with the Law of Attraction and Vibrational Resonance, and it does so very simply.
You will learn how to speak the language of your subconscious mind. This is the domain in which transformation occurs and manifests your deepest desires.
You can change your subconscious mind about who you think you are, what you believe you deserve, and what is possible for you to really experience. You will learn 4 crucial steps that, when practiced, will transform you and your world. What you discover could really surprise you. . .You are designed to be a conscious co-creator of your life. It's time for you to create what you want!
"Imagination is more important than knowledge." ~Albert Einstein
1If you are ready to become the conscious co-creator in your life, then the "Make It REAL: The 4 Crucial Steps That Will Turn Your Unbelievable Dreams Into Believable REALities NOW! Audio – Transcript and Workbook is the perfect program for you. This program is available in a download version to be accessed immediately.  ($19.99 USD)
Click on the secure "Buy Now" button below to purchase the program. You will have immediate access to download the Mp3 Audio and Transcript – Workbook, and it all comes with a 30 day 100% money-back guarantee if you are not fully satisfied.
The imagination has become a new frontier as the place to go if you want to be lifted out of your limited and difficult circumstances. Your analytical mind can only draw from your past learning and emotional conditioning. The realm of your imagination is the divine realm of new possibilities and creative power. This knowledge is GOLD! It is THE place to go when you want to experience radical change for the better. 
If you have experienced too many setbacks, disappointments, and you're tired of having the past repeat itself in the areas of your finances, health, and your close, intimate relationships, and love, I have good news for YOU!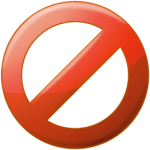 It can all stop here and NOW!
Are you ready to stop struggling, forcing, and attempting to control your own behaviors and/or the behaviors of others to achieve or manifest what you want? Massive action is just not working. . .
If your answer is "Yes", then it's time to 'change your mind,' utilize your 'Genius Power,' and become your authentic Self! Synchronicities, cooperation from others, opportunities, and money will come your way faster and easier than you are currently experiencing, just by aligning your inner 'way-of-being' with the realm of the Divine and boldly declaring what you want! No kidding!
If your personal and spiritual growth are not included as part of the process of you realizing your deepest desires, you will continue to repeat your past experiences, set backs, and disappointments. I'm here to help you keep this from happening and to teach you how to BEcome a conscious co-creator of your life in my audio-workbook program course, "Make It REAL."
---
 Order Your "Make It REAL"  Audio Workbook Program Below! 
Are you wondering if this audio-workbook program, "Make It Real" is right for you?
Have you had success with manifesting or achieving what you want in the past, yet you seem to have lost some of your power over the past couple of years, particularly during this time when our economic climate has changed dramatically?
Is your bank account dwindling and your credit cards are becoming your new source of income?
Has your health been impacted by stress and you've put on extra pounds that just won't go away
Do you wish you could get away for fun, but you feel locked into your business or your career?
Do you feel burnt out, yet you don't want to admit that you can't figure out a way that could work far better for you? After all, you're a super achiever and you know how to create success, right?
Do you have a deep desire to attract your soul-mate; yet, you're afraid to open your heart and be vulnerable for fear of getting hurt?
You have desires in your heart, yet, you are resistant to go for them because you don't know 'how' to bring them about.
If this describes your experience in any way, please know, it doesn't have to be this way.
There is "a better way!"
The experiences that we've had in the past and the ones that we're currently having are manifestations of our deeper beliefs. Now, you probably know this. We get what we believe, not what we want. Do you keep experiencing what you don't want?
There is "a better way" to create what you want, and it isn't about getting more information or continuing to do more of what you have been doing. Again, if your personal and spiritual growth (which requires you to discover and release your hidden agendas) is not part of manifesting your deepest desires, you will have set backs and disappointments. I can't stress how important this is to you!
---
TESTIMONIAL:
My life and business are amazing! I've had such a shift in my mind set and it is showing up in everything that I do. Business has grown way beyond what I thought I could achieve.
Make it Real….allowed me to visualize what I really want in life and business. I often refer back to my snippet to remind myself that what I want and deserve is real. This helps me to stay on track by giving me clarity.
Donna Blanchard
Owner of Aspiring Edge Wellness
Professional Wellness & Life Style Coach Counselor
Business, Executive & Leadership Development Coach
REIKI Master
Let me tell you a short story. . .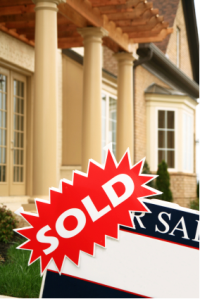 During a time when interest rates were really high, like 18%, I knew someone who wanted to sell her high-end home in thirty (30) days for its market value. She received so much feedback from her friends in the real estate community who told her that it would be nearly impossible to sell her high-end home in their market at that time, much less in 30 days. She was warned to expect that it would take about a year!
This woman was rather new to the idea that she could powerfully influence her experience by aligning her conscious, decision-making mind with her subconscious mind of belief and power. Daily she practiced seeing what she wanted in her mind's eye, however, it was very difficult to focus and get a clear picture in her mind. There was way too much resistance and doubt because of what she had been told by the "experts" and what many of them were experiencing.
As she exercised her knowledge of how the subconscious mind works and worked through her own resistance and disbelief, she finally achieved a resonance with the idea that she could sell her home for its current value, quickly and easily. Low and behold, a miracle happened. In 35 days it sold, and everyone was happy!
She went on to do this with every home she ever sold; 100% success every time — she sold her 
homes in 30-40 days, often in difficult markets. And, her homes were high-end properties!
 Another example of this power. . .
A woman wanted to attract her perfect mate. Unfortunately, she had many negative beliefs that suggested she wasn't good enough for a generous and loving man to love her, much less, want to marry and be faithful to her.
Of course, as you might guess, she attracted several relationships that proved her beliefs to be true. After three painful marriages, she was very fearful to get involved and to be in a committed relationship ever again! Just the idea terrified her.
Problem was, she deeply desired to be loved and to love again. She wanted to be married to a wonderful man that would cherish and respect her and who would be true to their vows. She too was learning about the power of her subconscious mind and about the existence of mental and spiritual laws that govern our minds.
As she diligently worked to release her resistance to being in a committed relationship once again, she was finally able to believe and trust that she would meet someone that would match her idea of a perfect mate.
Yes, this story too, has a beautiful ending. She was able to finally see her desire in her mind's eye as she worked through her disbelief and resistance. It became REAL to her. She was able to finally feel the truth of her desire in her body, and she was able to love it.
She met her perfect guy and they have been happily married for twenty-four (24) years!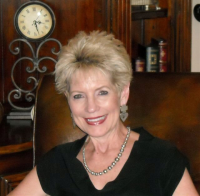 I could go on and on with more stories and miracles that have occurred for me and for many of my clients. The stories I just told you are about one woman in particular.
                                  That woman is Me, Judy K. Katz!
I have learned a lot about working with the Universal Laws over the past 30 years. Much I've learned by doing and applying what I have personally studied, much I have learned in my formal training as a certified metaphysical and spiritual practitioner and as an ICF master certified coach.
It's time to attract what you want with your divine power!
I'm not here to flash sensational results in front of you. I am here to help you attract what you deeply want. And, you absolutely CAN!
"Make It REAL: Turn Your Unbelievable Dreams Into Believable REALities NOW"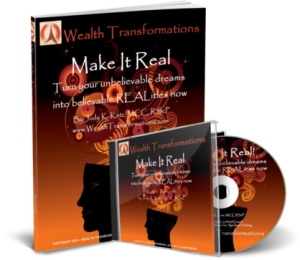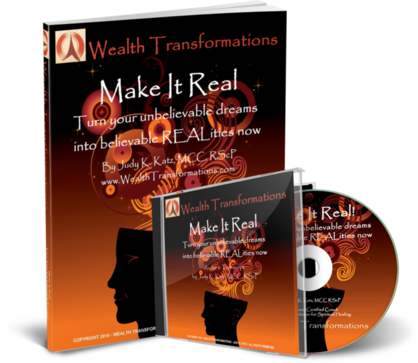 This unique program is simple and practical to use. It will help you attract your desires rather than you chasing after them with empty hopes and wishful thinking. I know this personally. The 4 crucial steps that I outline in this program are what I used to attract buyers to my homes in 30 days, my soul mate, and a lifestyle that I truly love. And, I'm still creating more! It's part of my spiritual growth process.
 Download the Mp3 audio recording and workbook program NOW ( $19.99 USD). You'll receive immediate access to this entire program!
The essential elements that you need to make your unbelievable dreams REAL are defined in this program. It contains the elements and processes that I used to deliberately create the successes that I've described in these stories and so many more.
"Make It REAL" is what I use today in my business and in my personal life for all of my dreams and desires. This is what I teach my students and clients who are ready and willing to accept their power and to use it wisely and consciously to thrive – to live their lives joyously, purposefully, and passionately!
Make It REAL: Turn Your Unbelievable Desires Into Believable REALities NOW!
Here's what this amazing Audio course and Workbook program gives you:
The # 1 key creative strategy that is a MUST to REALizing what you want faster, easier, while enjoying the process.
You will learn why you don't get what you want and what you can do to turn it around consistently, every time.
The four (4) key elements that will breathe life and energy into your desires.
You will find out why it is paramount not to ignore or dismiss your desires!
You will gain the ability to become 'attractive' to your desires.
Learn how to believe in and trust your power to manifest what you desire.
You will increase your ability to take inspired action without pushing and forcing yourself and/or others! (Inspired action is not forced action that requires your will-power and control. It is action you are moved to do.)
You will learn how to diminish your fears and intimidation that your deepest desires can evoke. (This is worth a fortune!)
Find out why most forms of visualizations and affirmations don't work. You MUST have this missing element or you'll be wasting your precious time.


---

TESTIMONIAL:

Hi Judy,

I have just listened to your generous and brilliant recorded teleconference of yesterday. Your wisdom and direction for manifesting our dreams and hearts desire is truly inspiring…and ohhhh so practical and doable using your manifesting process…The Snippet ! The exercise you lead Danya through was so insightful and clearly demonstrated how we can use our subconscious mind to create an entirely new, more perfect vision of our reality….our destiny. Even capturing the emotion…the experience of our true heart's desire.

Your generosity of spirit is beautiful and contagious! And because of that I sense a difference within me. I am now, more than ever, challenged to "become a bigger, more wondrous version" of myself. To become that difference in the world…that miracle.

I am very grateful…and thank you from the bottom of my heart.

~Linda

---

 

One of the strongest motivators of our behavior is to prove who we 

believe ourselves to be.

Who you say you are, "I Am," is a powerful decision to make. This decision dictates everything.

 YES, I have created my ideal mate, a million dollar business (in today's dollars) with very little investment upfront, a clientele to fill my 6 figure coaching practice mostly by referrals, and I sold all of my premier homes in 30-40 days regardless of the market and the economy; however, I must say that these and all of my "miracle" manifestations to date have been the results of something much greater. Who I've come to know myself to BE has transformed powerfully for the better!

"Pray not for tasks [desires] equal to your powers. Rather, pray for powers equal to your tasks [desires]. Then the doing [manifestations] of your work [desire] shall be no miracle – but YOU shall be the miracle!"

Phillips Brooks and [ ] Judy's additions

---

Order your "Make It REAL Program" – Audio and Workbook today.
YES, I'm ready to make my desires REAL to me and to become "attractive" to

them instead of working so hard and chasing after who or what I want. I agree that I must do the simple steps and practices in this program to experience my transformation. I am eager and willing to do this.
I understand that in this program I will receive:
The Make It REAL: Turn Your Unbelievable Desires Into Believable REALities Now, downloadable Mp3 audio course (approx. 1 hr.) which is taught entirely by Judy K. Katz, Master Certified Coach and Certified Spiritual Practitioner of Universal Success Principles. 
Downloadable Mp3 audio and workbook

which includes a complete transcript of the course, together with powerful exercises as part of the program.
I understand that the "Make It REAL" program comes with Judy's personal guarantee. If I'm not completely satisfied with the training provided, I will receive a full refund of my money upon my request within 30 days of purchase. I have no risk!


---

"Make It REAL" Workbook & Audio Program (Digital Download),   $19.99.00 (USD)

---

30 day, 100% money-back Guarantee – No Risk. I DO want you to be completely satisfied with the information contained within my unique program, Make It REAL: Turn Your Unbelievable Desires Into Believable REALities NOW! Audio – Workbook course. If you're not completely satisfied with the information provided, please contact us at customer care within 30 days of purchase for a 100% refund.

Thank you!

Dream it, own it, and make it REAL!


P.S. Please act now! Your REALLY awesome life is waiting!